10 Pros & Cons Of The Different Ways To Pick Up Your Dog Poop
Living with a dog means living with dog poop.   There aren't any good reasons for not picking up the poop because ignoring it invites germs and pollutants, never mind the occasional messy misstep. It's also bad for the environment, annoys your neighbors, and gives our lovable canines a bad name.
Source: barkpost
Thus, all dog owners have to make a habit of cleaning up after our doggies. Fortunately, there are lots of ways to get the job done, and clever new solutions all the time. Here are ways to scoop that poop with its pros and cons:
1. Plastic Bag
Pro: Plastic bags are free and easy to wad up to fit in a pocket. Or you can buy a style of leash that incorporates a stashed bag.
Con: Your dog's plastic-sealed package may sit in a landfill for several years, as it's slow to decompose.
Source: wishforpets
2. Pooper Scooper
Pro: A touch-free, no-contact method.
Con: You'll need to carry your pooper scooper along on walk, as well as a bag to collect the waste.
Source: tidyupsd
3. Flushing Dog Poop
Pro: Safely eliminates smell, germs; doesn't end up in the landfill.
Con: You need a foolproof method to carry the poop into the house to the nearest toilet.
Source: dogchannel
4. Indoor Potty
Pro: Convenient when your dog can't easily get outside.
Con: Needs to be emptied and sanitized regularly.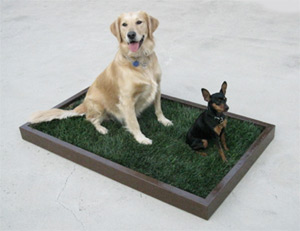 Source: doggyandthecity
5. Burying Dog Poop
Pro: Eliminates the poop.
Con: Labor intensive; environmental issues may remain.
Source: instructables
6. Wrapping dog poop in the newspaper
Pro: Repurposes old newspapers, which decompose faster than plastic.
Con: Can be messy since you can't completely seal the newspaper; needs to be coupled with a pickup method such as a scooper or shovel.
Source: pinterest
7. Call a specialist
Pro:  You don't have to do it!
Con: Expensive to keep up with, needs to be coupled with another method when you're on walks or outings.
Source: startapooperscooperbusiness
SHARE this on Facebook!