It is so great that we treat our dogs as one of the members of the family. But it is much greater if we include them and they participate in one of the most special occasions in our life like weddings. Check these dogs who are the most adorable during the weddings of the owners.
1. The most cute boxer dog as ring bearer.
Source: kellyginnphotography
2. No one will ever harm the bride aside from the spiky shoes, it is guarded by this cute pup.
Source: chicksprinkles
3. This couple looks so happy but their buddy look so sad.
Source: bridalguide
4. This boxer dog having the hard time letting go of his buddy.
Source: leilabrewsterphotography
5. The most important witness of them all.
Source: kokorophotography
6. The prettiest flower dog ever.
Source: vieraphotographics
7. The little bride & groom dachshunds.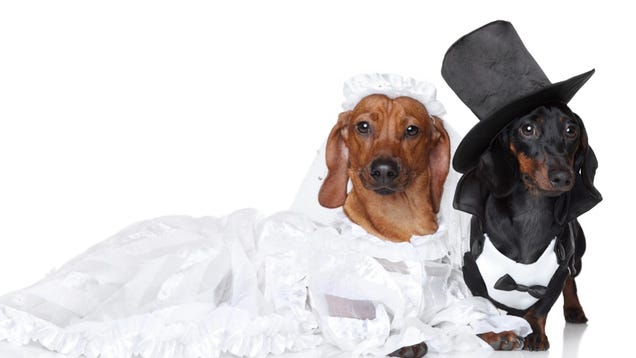 Source: jezebel
8. The best buddy, best guard dog and the best man of the wedding.
Source: catherineannphotography
9. A hand shake before marching down the isle.
Source: sbchic
10. The most emotional wedding kiss I've ever seen.
Source: weddingbee
11. Sweet flower girl! 
Source: patsfloraldesign
12. Delivering this sign of infinite love
Source: pinterest
SHARE this on Facebook!