14 Boxer Dogs Who Just Took Their Afternoon Nap
Dogs need to sleep a lot more than humans do. They approximately need to sleep at least 18 hours a day depending on their daily activities. Since they sleep more than we do, what's the best thing to do while our buddy is sleeping and we are awake? It's time to take some pictures of their weird and funny faces while they sleep.
These 14 Boxer dogs did a good job making faces while sleeping!
They all look so funny and AWWE-dorable!
1. "I just rest my head for a while"
Source: k10plus
2. "This is my pre-sleeping position"
Source: ink361
3. "I own this couch and i can do as many position i like during my sleep"
Source: pinterest
4. "I am multi-tasking, sleeping while watching TV in my dreams"
Source: makingmoments
5. "I know you will be taking my pictures!"
Source: dogtime
6. "This is the most comfortable sleeping position everrrrrr!"
Source: tumblr
7. "He is my sleeping companion. When I sleep, He sleeps!"
Source: dogpicturesite
8. "What??? I'm comfortable with this!"
Source: boxerforums
9. "Ok so you can sleep on the couch!"
Source: sodahead
10. "The best bed eeeevvvvvaaaaahhhh!"
Source: bowwowtimes
11. "Shhhh…. I'm sensing something in my sleep. Can you please keep quiet?!"
Source: myanimalzoo
12. "Sleeping like a pro!"
Source: aplacetolovedogs
13. "Is it me or the bed is just too small?"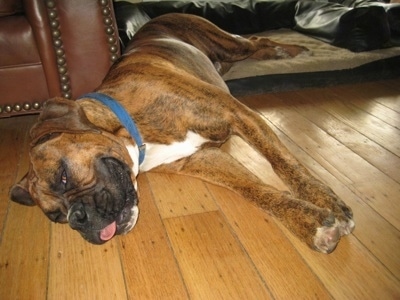 Source: dogbreedinfo
14. "I didn't ask for this, this child did!"
Source: aplacetolovedogs
SHARE this on Facebook!