5 Flower Essences for Dogs With a Dark Past
Dogs also experience inevitable events like Death and heavy emotions like Grieving and Depression. Most of us, if not all, already know the pain of losing an animal companion.
source: dog.mobile-n
We have also witnessed dogs who have been through trauma from abuse and neglect.
source: deviantart
Here are 5 Flower Essences you can keep in your homes to lift up the low spirits of your dog!
1. Tall White Lettuce – Brings strength to bear grief and helps turn attention to hope and joy
source:  ontariowildflower
2.  Onions – Good for all stages of grief, helps expedite movement through the various stages of grief. (Not to be mistaken for actual onions, which are toxic to dogs. Onion flower essence is made from the plant's flower, not the bulb).
source: eol
3. Honeysuckle – For melancholy and/or focusing on the past.
source: nwwildflowers
4.  River Beauty – Can help when the loss has been sudden and traumatic.
source: turtlepuddle
5. Waratah – If your dog is endlessly pacing or otherwise restless, he may need Warratah flower essence. It addresses a level of despair in which one cannot accept the loss.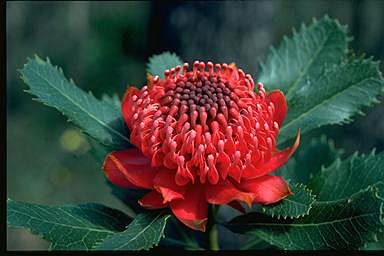 source: anbg
Here's a bonus!!
Montana Rhodochrosite is not a flower essence, it is a gem elixir.  You can use this to help recover a geriving dog.
source: healthlines
SHARE this post on Facebook!