5 Ways To Protect Your Dog From The Heat Of The Sun
The sun is up and it's the perfect time for you and your dog to run and play outdoors, take long hikes or hang out in the pool!  But did you know that despite all the fun, these activities can pose a dangerous threat to our doggies?
 You'd think with all that fur and hair you wouldn't have to worry about protecting your pup from the sun, right? Wrong. Don't underestimate the power of the great big ball of heat in the sky. Dogs can get sunburn just like people.
We've got some great tips to help you keep your dog healthy in the heat of the sun!
1. Always bring a LOT of water. A water bottle and a water bowl in one! Excellent for pups on the go!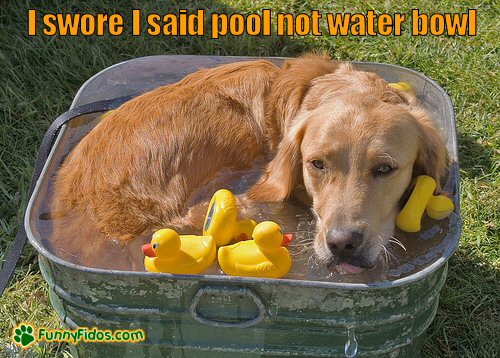 Source: funnyfidos
2. Provide shade.  Wherever you decide to play outside, find any natural shade in the area provided by trees or buildings.
Source: pinterest
3. Give them cool yummy treats. As long as you know which foods to avoid, there are loads of dog and human friendly smoothies you can whip up for you and your pup!
Source: pinterest
Source: pinterest
4. Consider protective clothing. Find something breathable your pup can wear comfortably in the heat that will also prevent unnecessary exposure to UV like Body Glove's Dog Rash Guards.
Source: mypetnet
Source: shutterstock
5. Use a dog friendly sunscreen.  It definitely exists, but make sure you pick the right one. Check the label and avoid any products that use zinc oxide, as it's toxic to dogs.
Source: pinterest
SHARE this on Facebook!