7 Hotels That Are Pooch Friendly
Vacation won't be a problem anymore when you think of bringing your dogs. Check out these fine hotels and resorts that are totally dog friendly.
1. Ace Hotel. Travelers who book a room at Ace Hotel New York with the special rate code PUPPYLOVE will have our regular pet fee waived.
Source: dailymail
2. W Hotel. Upon arriving, pets receive welcome packets that contain a toy, treat, pet tag, and clean up bags with the PAW (Pets Are Welcome) program.
Source:  petsallowed
3. Kimpton Hotel.  They offer special pet packages which include amenities such as food and water bowls, mineral water, temporary pet tags, gourmet dog cookies, walking services, dog sitting services, and even pet massages.
Source: gopetfriendlyblog
4. Westin Hotel. The Westin will pamper your pup as much as it would a person. From offering robes, massages, and custom cuisine to the guiding your dog in your entourage.
Source: planedia
5. Four Seasons Hotel. The hotel will also accommodate your dog with walking services and special treats.
Source: noholidaynolife
6. Loews Hotels and Resorts. Enroll your dog in the Loews Loves Pets program at the Loews Hotel and your dog will gain access to a unique room service menu, toys, a bed, and a list of local pet services. The hotel also provides dog-walking and dog-sitting.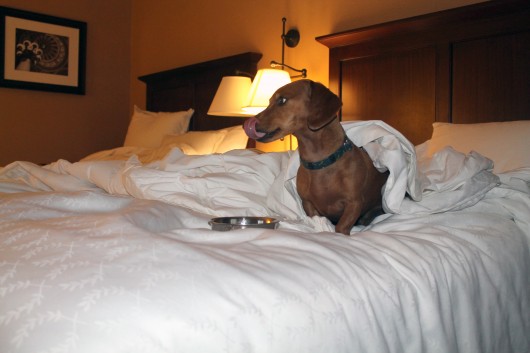 Source: ammothedachshund
7. Drury Inn. Not only are dogs welcome at the Drury Inn, but they stay free of charge!
Source: zimbio
SHARE this on Facebook!