Dachshund Owners Will Understand This Humor!
Dachshund owners will be able to find these pictures funny!  ROFL Dachshunds are the best.  These made my day!
1. My bad hair day made me irresistible!  
Source: myminidoxie
2.  I'm on a mission to try on some happy feet! 
Source: fanshare
3. Time to relax for today!  No work for you! 
Source: favim
4. Our dynamic bodies sometimes conflict with our flappy ears! 
Source: buzzsharer
5. In our begging costume, no one can resist us now! 
Source: forwallpaper
6.  Yes, Doxies swallow their prey whole.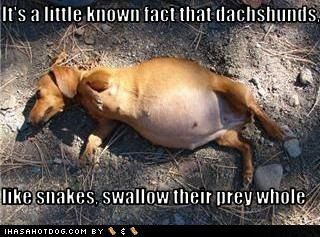 Source: backyardchickens
7.  Balancing funny things on my cute nose! 
Source: favimages
8. Walking with my head high! 
Source: brothersoft
9.  With my plan, I can rule the world! 
Source: ilovedachshundszone
10.  Has seen something funny that cannot be unseen! ROFL!
Source: pinterest
SHARE this on Facebook!